Are fair working conditions and a reasonable salary something you think is important? Do you know how the people who sewed your clothes are doing? If you are wearing a sweater from Woolpower, you can feel confident that the people who made your garment have a salary they can live on and fair working conditions.
The factory in Östersund has one of Sweden's largest sewing units and we have a total of nine sewing lines. The seamstresses are divided into teams that work with different products. Some sew jackets and vests while others sew accessories, Long Johns or Zip Turtleneck. Here, no one works on a piecework basis and quality always takes precedence over quantity. If a seamstress discovers an error in the process, she interrupts production to correct the error.
Below you can meet some of the seamstresses who have worked, and are currently working, in our factory in Östersund.
A quality seal
So, it is the same seamstress that sews your entire garment, from the first to the final seam. Once the entire garment has been sewn, the seamstress checks and approves it by signing the garment with their own name. That's why the name tag is both a quality seal, as well as way to help our customers understand that behind every garment is a person. A person with a great deal of knowledge about their craft.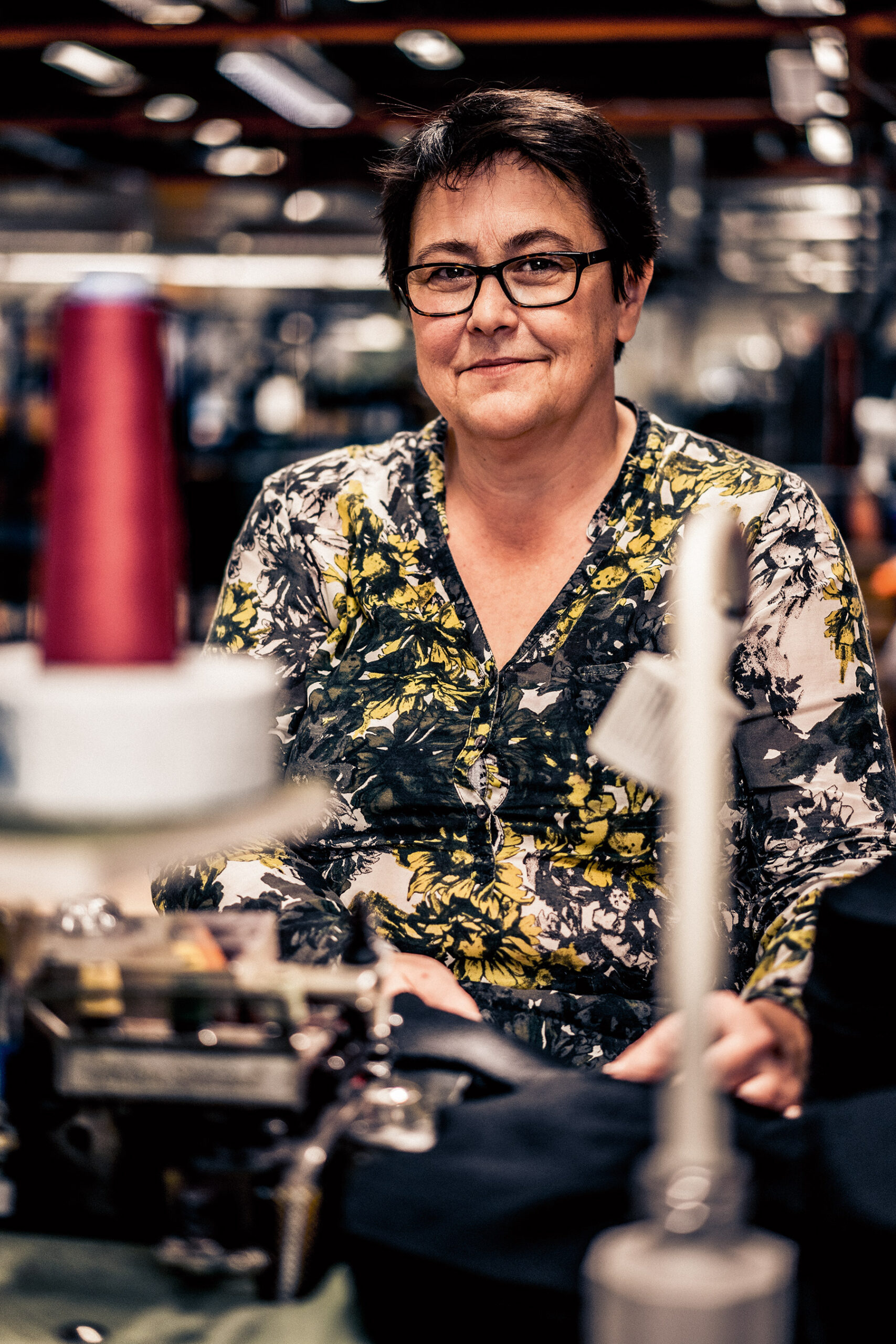 Ann-Mari Lund
Ann-Mari worked at Woolpower in Östersund from 1977 to 2021.
"I have been working at Woolpower for almost 40 years. During this time I have acquired a great understanding of the material and developed my skills as a seamstress. I am proud to be a part of the Woolpower team. I guess the number of years that I have been employed here proves it well! "
Martha Persson
A name that appears in many of Woolpower's garments is Martha Persson. Since 1975, she has worked as a seamstress in Östersund. The summer of 2020 will be her last in the factory when, after 45 years, it has become time for her to retire again.
Over the years, she has accumulated lots of memories, and even though world celebrities, royalty and great politicians have stood beside her and watched her work, it is people and meetings during the factory annual open house she remembers best.
"I love the factory open house. People are curious and want to know everything. You usually do not think so much about how unique it is with a sewing factory in Sweden, but during an open house it becomes extra clear and visitors have a lot of questions "
Martha retired already in the summer of 2019, but she only managed to be retired for a week before she started to miss the colleagues too much and she was back at Woolpower again. Now she is making a new attempt and the plan is to exchange fabric, sewing machines and thread for wooden boards, saws, and hammers.
"Yes, now I will try to retire again. I live on a farm so there is a lot to do. First, I will learn how to change the panelling on the barn then we will see".